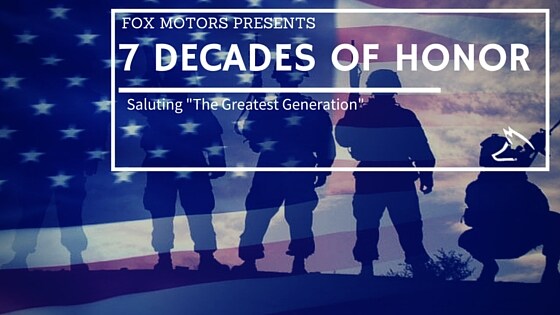 2015 marks the 70th anniversary of the end of World War II. It has been said that the Veterans who fought in WWII comprise part of America's Greatest Generation. To commemorate them, MacDonald Garber Broadcasting and Fox Motors wants to preserve their stories through a series of interviews promoted on-air, online, and on CD. Importantly, these stories will come not just from WWII veterans, but from the people who remember what it was like to live and grow up during this most important time in our country's history.
These are local heroes from Northern Michigan, and their stories represent a real-life a history that we cannot afford to lose. Please join us as we salute the people that have given us Seven Decades of Honor.
Commemorative CDs are available for sale at various locations in the market with all the proceeds going to veterans charities in our area. The CD features stories of local people that experienced life in our area during the war, as well as interviews with WWII veterans taken from our on air vignettes.
CDs are $10, with proceeds benefiting local Department of Veterans Affairs offices in Charlevoix, Emmet, Otsego, and Grand Traverse Counties.
To purchase a CD, please visit:
Johan's Pastry Shops
West Mitchell Petoskey, Walloon Lake Village
Harbor Springs, Boyne City, Charlevoix
Johan's Bagel and Grill
M 119 Harbor Springs
Johan's Burger Express
M119 Harbor Springs
The Original Pancake House
The Village at Bay Harbor